A Remembrance - 11/16/97

One year ago today, my wife died after a nearly six year battle with cancer. It is today that I seek to remember and honor her life.
Pat was a mother, teacher, lover and friend for twenty years of my life.
Her arts with the needle and crafts left me a museum of memories.
We were brought together by James Michener. Now that was not a personal introduction but due to the fact that I had a copy of Centennial and she didn't.
I had volunteered to answer phones at channel 13, our local PBS station, for a fund drive. I met this lady who seemed funny and interesting and the discussion turned to books at one of the breaks.
When she revealed that she loved Michener, I asked if she had read Centennial. (What a bold move!) When I found that she hadn't, I volunteered to loan her my copy. Just needed her phone number so I could get it to her. Some pickup line....ha!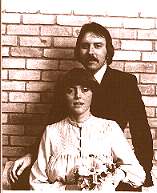 One thing lead to another and we were married on October 29, 1977. Our wedding trip was to New Orleans to see the King Tut exhibit. Aside from that the highlight of that trip was Halloween on Bourbon Street and staying at a hotel that had in times past been a macaroni factory. How romantic ...though it suited her well because of her passion for macaroni and cheese.
Our life together brought us the joy of our two sons, a sharing of both good and bad times, and a view of life that merged into a perspective that I am now left to continue.
Now we were not always the perfect couple because the differences that drew us together often turned our relationship into something nearly as explosive as gasoline and a match. However, as much as we were different we were alike in common goals for our children.
Where she was organized, I was chaos. Where she was focused on one thing, I flitted from interest to interest. She liked potatoes, I liked rice. She was motown and I was rock and roll. She had rhythm and I ...... well.....
Pat in her career as an elementary school teacher always had a driving force for the good of children, both ours and others. She had the respect for the lesser creatures around us. She shared this with me and made it a part of me. We often wondered at the human parade that passed us and at times questioned the matter of what was really the highest life form on this planet.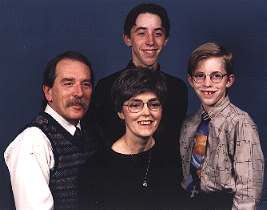 We were parents together. We cared for children together. We taught children together in church and scouts. We worried over my daughter together and she helped us both grow. We in the end had cancer together. I was the cheerleader, she was the team.
We laughed at some of the stupid stuff as I became the cook, bottle washer, chauffeur, and nurse when she couldn't.
We laughed when a nurse asked the secret of her beautiful complexion and Pat said chemotherapy.
I both laughed and cried when I found the list of things she left me to do in regard to her final arrangements. Lists, lists, always lists and me trying to remember where I left my reading glasses.
I have in the last year realized how much we changed together. I have realized that I will never be what I was because of her. I find myself asking, what would Pat have done.
I now have my own personal angel who is not bashful about giving me an angel kick in the butt when I need it. It should be so.
Some thoughts and remembrances from me that help me put it in perspective are:
Rainbows
Leaves
Traveler
Wanderings
And a special site for inspiration with a smile:
God Said Ha