If you like this site, I encourage you to add one of these buttons on
your web page. If you put one of these logos on your site, e-mail me with your
page's address and I'll add a link to your page on my links page.
Link all buttons to: http://www.tvpnet.com/rem .
Please do not link to today.html . Here you go.......
More buttons coming soon....

1.43k



1.18k



2.45k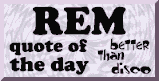 3.46k



2.47k