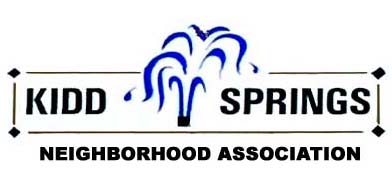 Meeting - The third Monday of each month Kidd Springs Recreation Center (711 Canty) at 6:30 PM. The Association exists to improve the safety and quality of life in the Kidd Springs area.
~~~~~~~~~~~~~~~~~~~~~~~~

La Asociación de la Vecindad
Junta
- El tercer lunes de cada mes en el centro de Kidd Springs (711 Canty) a las 6:30 P.M.. La asociación existe para mejorar la seguridad y la calidad de la vida en el área de Kidd Springs.

E-mail us