The Environmental Team of Subcamp 16 included Jack Keene of (Chief Pigman for SC16) of Dallas, TX, Larry Abraham of Austin, TX (our able artistic consultant),Gary Uhlenhaker of Corpus Christi, TX (the man with the gas mask), and Robert Bozwell (costume consultant) of Gatesville, TX.
PLUS ALL SCOUTS AND SCOUTERS IN SC16
OUR MISSION:
TO PROVIDE THE BEST RECYCLING AND GARBAGE QUALITY OF ANY SUBCAMP
OUR MOTTO:
ATTITUDE IS EVERYTHING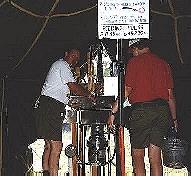 What is the Great Electric Pig? Well, it's a voracious garbage disposal that took on all that the Scouts could dish out. Each subcamp had two units for handling the leftovers. One was named Deedee and the other was named Arnold.
Arnold is shown here under the control of Scouter Bob Bozwell.
Tim the Toolman would have been proud of these units ... better than the Binford 3000. :)
Well, it was not all serious in Subcamp 16 as I am seen here modeling the latest in Environmental Control gear prior to our Subcamp Staff Luau night meal.
What was on the menu? Roast Pig of course!